gREETINGS dISTANT tRAVELLER. yOU hAVE sTUMBLED uPON tHE iVORY bIBLE; tHE tRASH cODEX; tHE vERY fOUNDATION oF lIFE iTSELF. wE hOPE yOU eNJOY yOUR sTAY.
bAND mEMBERS
Edit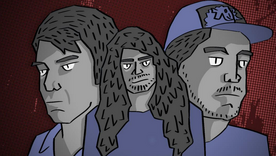 tRASHAPOCOCTOPUS = gUITAR & vOX
tRASH'D'BATOR = dRUMS & vOX
tRASHPANZEE = bASS & vOX
cLUB bURRITO, cANTERBURY - 6tH oF oCTOBER 2017
tHE aTTIC, aSHFORD - 15tH oF dECEMBER 2017
tOM tHUMB, mARGATE - 19tH oF dECEMBER 2017
uCA bAR, cANTERBURY - 16tH oF fEBRUARY 2018
bRAMLEYS cOCKTAIL bAR, cANTERBURY - 14tH oF mARCH 2018
uCA bAR, cANTERBURY 2 - 16tH oF mARCH 2018
uCA bAR, cANTERBURY 3 - 17tH oF mAY 2018
gENERAL tRIVIA
Edit
-tRASH mAMMOTH aRE mAKING a bUZZ .
bLACKLIST fROM yMS
sIDE aCTS
Edit
lATEST aCTIVITY
Edit
Photos and videos are a great way to add visuals to your wiki. Find videos about your topic by exploring Fandom's Video Library.
Community content is available under
CC-BY-SA
unless otherwise noted.